Renata Szyszlak urodziła się w 1974 r. w Przemyślu, studiowała na kierunku: Edukacja Artystyczna w Zakresie Sztuk Plastycznych na Uniwersytecie Rzeszowskim. Dyplom z malarstwa w pracowni prof. zw. Tadeusza Wiktora otrzymała w 2001 roku. Obecnie pracuje jako dr hab. prof. UR w Zakładzie Rysunku i Kształtowania Przestrzeni Instytutu Sztuk Pięknych Uniwersytetu Rzeszowskiego. Należy do Związku Artystów Słowackich "C+S". Uprawia rysunek i malarstwo. W dorobku artystycznym ma 42 wystawy indywidualne ( min. "Informelle Eruption", Galerie Kunsthalle, Bielefeld, Niemcy) oraz udział w kilkudziesięciu wystawach i konkursach ogólnopolskich i międzynarodowych w kraju i za granicą. m. in. w Wielkiej Brytanii, Belgii, Słowacji, Czechach, Włoszech, Francji, Niemczech, Rosji, Litwie, Macedonii, Grecji, Ukrainie, Chorwacji, Tunezji i Serbii. Od wielu lat bierze udział w plenerach międzynarodowych w kraju i za granicą. Laureatka kilku nagród i wyróżnień krajowych i międzynarodowych, min. Grand Prix Ministra Kultury i Dziedzictwa Narodowego Międzynarodowego Triennale Malarstwa Regionu Karpat "Srebrny Czworokąt 2012".
Zapraszamy serdecznie!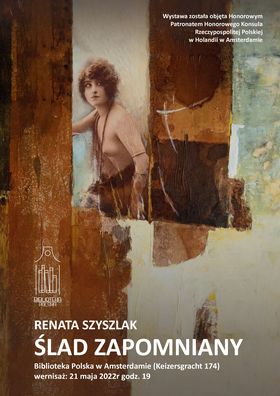 Renata Szyszlak: Born in 1974 in Przemyśl. Studies at the College of Pedagogy in Rzeszów – in the field of Artistic Education and in the Field of Fine Arts. Diploma in painting in the studio of prof. Tadeusz Wiktor in 2001.
Currently, dr hab. prof. University of Rzeszów in the Department of Shaping Space, Design and Drawing at the Faculty of Arts of the University of Rzeszów. She belongs to the Union of Slovak Artists "C + S". In the artistic output 42 individual exhibitions and participation in dozens of national and international exhibitions and competitions in Poland and abroad, among others in Great Britain, Belgium, Slovakia, the Czech Republic, Italy, France, Germany, Russia, Lithuania, Greece, Ukraine, Tunisia and Serbia. For many years she has been taking part in international plein-airs at home and abroad. Winner of several national and international prizes and awards, for example: Grand Prix of the Minister of Culture and National Heritage of the International Triennial of Painting of the Carpathian Region "Silver Four Square 2012".